How to use the Route Import & Real-time Navigation functions of the Amazfit T-Rex 2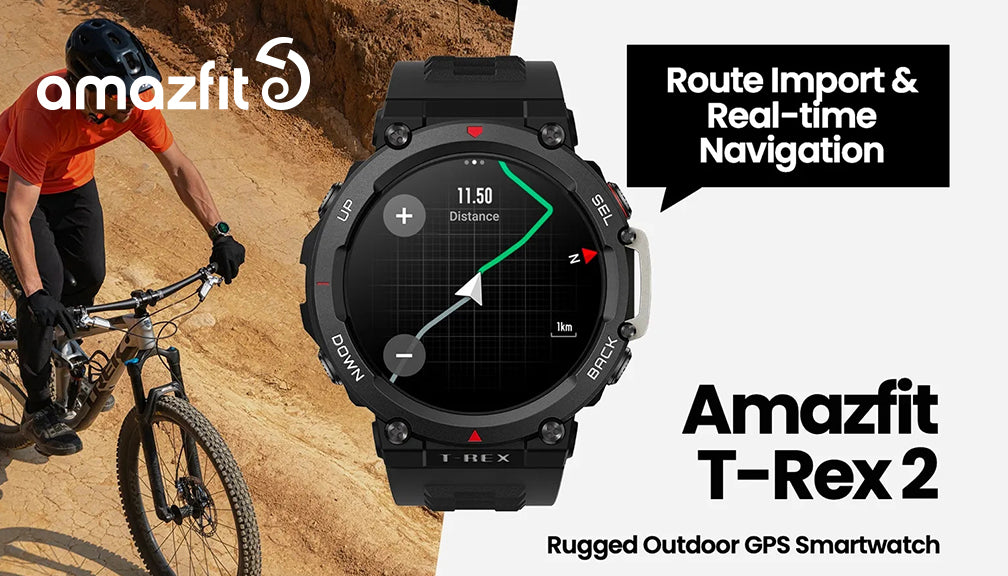 When it comes to adventuring outdoors, strong and accurate GPS tracking and navigation is important for both safety and enjoyment. And for long-distance outdoor activities, pulling up your mobile phone every few steps isn't the most convenient choice.
That's why the Amazfit T-Rex 2 is built to support precise and intuitive real-time tracking of your GPS positioning and movement. This rugged outdoor GPS smartwatch's latest firmware update introduces the Route Import and Real-time Navigation features that you need, to add a new dimension to your outdoor adventures.
1. What are the benefits of the new Route & Navigation features?
Fewer detours: avoid getting lost: got a new trail you want to explore? Import a route shared by a friend or fellow adventurer, and save yourself from losing your way during long-distance outdoor hiking, trail running, or cycling.
Find your way back: the route navigation feature lets you return to the starting point of your journey by following the same route in reverse. So even when your mobile phone has run out of battery power, you can still avoid getting lost in an unfamiliar environment.
For example: one night, a cycling club arranged to meet at a certain GPS position. One of the cyclists was following the directions on her mobile phone, but her battery ran out of power and she struggled to find the destination in the dark. In this case, the Amazfit T-Rex 2's route navigation functions would have allowed her to continue on her journey, due to the better battery life - or she could have used the watch to find her way back to the beginning point of her journey.
Make travel plans: your favorite blogger just shared a new post about a trail they just hiked, and attached a route file for it. When you want to try it for yourself, you can download the file to the Zepp App via your mobile phone, and then send it to your T-Rex 2 to follow along directly on the display.
2. Why use a watch to navigate?
Your phone is already clear and bright enough to navigate a route on, so why should you use a smartwatch to navigate?
Well, not only is it difficult to hold your mobile phone firmly during intense, high-speed outdoor activities like running, or while holding a trekking pole in your hand as you explore rough mountain terrain, but you'd also have to keep raising it every time you need to check where you're heading. A smartwatch on your wrist makes it easy to quickly check your progress while keeping your hands free.
Mobile phones are also extremely power-hungry when the GPS is turned on. Rather than carrying a power pack in your bag, or risking the phone running out of battery while you're halfway up a mountain, the Amazfit T-Rex 2 can last for up to 26 hours in its Accuracy GPS mode, 50 hours in its Balanced GPS mode, or even 58 hours in its Power Saving GPS mode.
Mobile phone maps are also not always reliable - there may be times where your phone could lead you to a dead end, or miss out sections of a route completely. The T-Rex 2, meanwhile, supports strong dual-band positioning as well as five satellite positioning systems, for added reliability.
The final and most obvious benefit of using a smartwatch for navigation: a smartwatch is much lighter - the Amazfit T-Rex 2 is only 66.5g. So not only are smartwatches much more convenient to wear and use during outdoor sports, but their ability to provide real-time reminders and alerts, along with haptic vibration feedback during your activities, are more direct than mobile phone voice directions.
3. What is a route file, and where can I find them?
The route file includes travel information like distance and terrain details for the mapped route.
There are many kinds of route file formats, and the most common ones are .GPX, .TCX, and .KML formats.
There are several ways to get a route file:
      1. Download from a website specializing in route sharing, like Strava.
      2. Ask a friend to share the route file they used, or download from a social media posting - like one made by a blogger.
      3. Some trail locations have signposts with QR codes that you can scan to download the route file for the trail.
4. How do I access the Route Import and Real-time Navigation functions on my Amazfit T-Rex 2?
Upgrade the Zepp App on your mobile phone to the latest version, and then perform the newest system update for your Amazfit T-Rex 2. The version number is: 9.22.7.2
Find the route file you want to share - the supported file types are .GPX and .TCX and .KML formats.
Download the route file to your phone, and then send it to a chat app, before selecting "Open with other apps" and choosing the Zepp App.
Send the route file from the Zepp App to the Amazfit T-Rex 2 watch, from the My Routes page of the Zepp App. 
5. How do I navigate using the Amazfit T-Rex 2?
After confirming that the route file has been imported to the watch via the Zepp App, you just need to:
Open a compatible outdoor sports mode on your watch.
Before pressing GO, scroll down the watch display to find Navigation. From there, open My Route and select your imported route.
Press GO on your sports mode, and begin.