Team Amazfit Athlete Story: Jeremy Vrentas
1) Please share your name, age, and where you are from:
Jeremy Vrentas (41) from Lee's Summit, Missouri.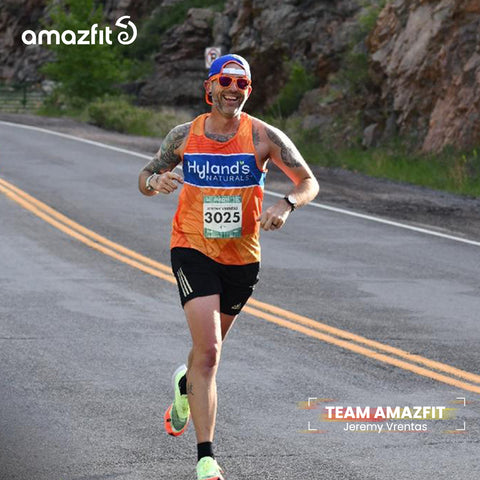 2) What has your journey with running looked like throughout your life? Feel free to elaborate and share your fitness journey!
Never was a huge runner growing up. I've always been involved with sports growing up like tennis, baseball, and basketball. I got into cross country and track late in high school but was not very good at it. It wasn't until a little after turning 30 did I start to dab into running. Getting in with a local running store's weekly group runs is what has brought me to the point I'm at now.
3) What keeps you running? What is your why?
My why is and always will be to set an example for my kids, inspire others, and push myself to continue to be better every day.
4) Have you run the Boston marathon before? If so, what was your experience like? If not, what are you most looking forward to?
This is my very first Boston Marathon! I'm most looking forward to experiencing this global historic race that a very small amount of people that are blessed to participate in. I also get to travel with my favorite people: Marky, Lily, and Ian.
5) What has your training looked like for the Boston Marathon this year? Has your training differed over time?
This year has been very busy already with racing the Mesa Marathon in February and the Little Rock Marathon in March. These races have helped me stay trained up for the big day.
6) What are you most proud of in your running/ athletic career thus far?
The day I qualified for Boston at Revel Big Bear November 2021. I had my wife, two kids, and my running buddy at the finish line.
7) What are your future athletic goals? Where do you want to go next?
I would love to qualify for the New York Marathon and complete a 50k!
8) What would you tell someone running their first marathon?
It will change your life. Do not focus on specific times. And train to finish it, you can always build from there. Marathons are a continuous learning experience.
9) What are some things you do in your daily life that keep you healthy as an athlete?
Working more and more on core strength, cross training, and hopefully soon getting back into cycling.
10) What are you hoping to accomplish at Boston?
Finish is always the #1 goal. Secondly, I'm shooting for a 3:09 - 3:19 finish time.
11) What is one thing people may not know about you?
Before focusing on running, I played drums in a band.
12) What do you tell people who don't think they can run a marathon?
It's not easy, but anyone can run a marathon with some simple discipline and goals. Let's chat, and I will get you there.